Murals Inspired by Plants of the Southwest
Whether you're looking to add a dramatic focal point to an outdoor living area,
or want to bring the beauty of the outdoors inside, a custom ceramic mural from Jim Sudal Ceramic Design is the answer.
For over 15 years Jim Sudal Ceramic Design has created beautiful murals inspired by plants of the American Southwest. Each dramatic work of art is handcrafted in Jim's Scottsdale Studio. You can choose from over a dozen standard designs, or Jim will work with you, or your designer or architect to create a custom botanical themed work of art. And because all of Jim's murals are kiln fired ceramic they never fade, even in the Arizona sun.
Contact Jim today (480-947-2254 or use the contact page) for more information and to begin the process of creating a unique work of art for your home or business.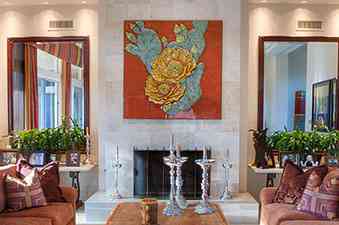 Commissioning a Custom Mural – How It Works
When I start a new commission it always begins with a conversation. I love to have new clients visit my studio to review and discuss my past work and we can have a chance to get to know one another. And I think it's important they see firsthand where their mural will actually be created. During the initial visit, I ask tons of questions. I find out what they like and don't like. I ask about the style of their home, the furnishings, the colors. And, of course, it helps if they bring along pictures of where the mural will be installed. If the client is in the greater Phoenix area I'm glad to visit their home to discuss the project, take pictures, and really get a feel for the space the mural will live.
It's important to keep clients in the loop during the design phase and I try to do that with sketches and digital representations of what the finished mural will look like once installed in their home or office. After the design has been approved, a 50% deposit is required to begin construction which, depending on the size of the finished piece, can take about 10 to 12 weeks.
Upon completion, I usually install the mural myself at no additional charge, however, if the piece is exceptionally large, or the area it will be installed is particularly tricky, I hire and supervise other installation professionals. Any additional installation costs are paid by the client, and will be known and agreed to before work on the mural begins, so there are no surprises.
I love creating these large dramatic pieces. And I love it when the piece and the process makes my clients happy.
CONTACT PAGE